Cheese Factory Restaurant - Wisconsin Dells
(608) 253-6065
521 Wisconsin Dells Parkway
Wisconsin Dells, WI 53965
http://www.cheesefactoryr
thecheese@baraboo.com
Join us at the Cheese Factory Restaurant. Our commitment is to open your heart and mind to the miracles all around you by presenting you and your family with a memorable and delicious vegetarian dining experience! Our goal is for all of us to enjoy ourselves - customers and staff alike.
Once an operating cheese factory and open since 1992, today we offer casual dining with healthy food choices for the whole family. We offer a full palate of sensory delights including Home made Soups, Unique Salads, Sandwiches, Pizza, Pasta, a special kid's menu, and heavenly desserts.
Thai - Greek - Indian and Mexican cooking are also featured. Rachael Ray of Food Network Fame bills our Big Cheese sandwich as one of four "over-the-top" grilled cheese sandwiches in the nation. In-House Bakery - Locals rave about our scrumptious bakery desserts and delicious specialty items. Cheesecakes, custom baked whole cakes and cupcakes in many different flavors are also available by advance order.
After Labor Day open Thursday, Friday, Saturday and Sunday 11AM to 9PM. Open other times for special events, please call or see our website for additional hours. The Cheese Factory Restaurant Cookbook is an essential cookbook is an essential cookbook for the modern vegetarian kitchen. Learn secrets to great tasting meat substitutes taste any way you want, even like some of your favorite meat dishes. You really can have your meat without eating it!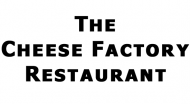 Cheese Factory Restaurant - Wisconsin Dells Items
No cash back, no carry over. Cannot be used for tip. Not valid with any other discount.

$25.00
$15.00