$20 Certificate from Fitzgerald's - Middleton
$20 Certificate
Unavailable
Sorry, this item is currently unavailable.
Fitzgerald's in Middleton offers casual dining featuring Steaks and Seafood. Premium quality ingredients like Angus Beef and Real Wisconsin Cheese ensures your meal will be unforgettable. One of the local favorite places for Friday Night Fish Fry and Sunday Brunch. Take advantage of their Lobster Special the first Wednesday of every month and save $10.00 off regular Lobster dinner prices. They offer a drive thru pick up if you're in a hurry. Fitzgerald's is open for lunch Tuesday through Friday. They offer a "no wait" lunch buffet and a chef's special entree. Book your next group luncheon, Birthday party, shower or office party at the newly renovated Fitzgerald's. A fine dining experience for reasonable prices. Open Tuesday thru Friday 11am to 2pm for lunch. Open Tuesday thru Thursday 4:30pm to 8:30pm for dinner and Friday and Saturday dinner 4:30pm to 9:00pm and Sunday 4:30pm to 8:00pm. Sunday Breakfast Brunch 10am to 11am and full brunch 11am to 2pm. See foodspot.com/fitzeralds or search "Fitzgerald's" on Facebook for more details.
No cash back, no carry over. Cannot be used for tip. Please tip your server in cash. Not valid with any other discount.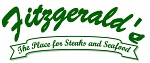 Click images to enlarge.


Fitzgerald's - Middleton
3112 Parmenter Street
Middleton, WI 53562
Phone: (608) 831-7107
Website: http://www.foodspot....
More Information